Mozu-Furuichi KofunGroup was finally registered as a World Heritage site.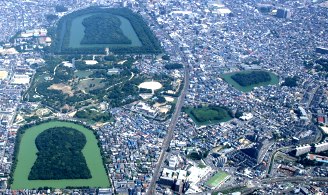 Mozu Kofungun
Mozuno —the field of Mozu— located in present-day Sakai, is where kofun (ancient mounded tombs) built 1,600 years ago still remain.
At the peak of kofun construction that involved most of the Japanese archipelago, Mozuno, an area not far from Osaka Bay, became home to some of the largest keyhole-shaped kofun ever built.
Smaller kofun of various shapes were often built around these giant keyhole tombs, forming the kofungun (kofun group) seen today.
Each kofun is a precious historical legacy communicating Japan's past to those of us living today and a heritage of global significance illuminating a page in Japanese history.
In July 6th 2019, Mozu-Furuichi Kofun Group was finally registered as a UNESCO World Heritage Site.

Webpage of the Conference Headquarters for the Promotion of Mozu-Furuichi Kofungun for World Cultural Heritage Inscription.