Profile of Mozu-Furuichi Kofun Group
Mozu-Furuichi Kofun Group consists of ancient mounded tombs and exists in Osaka Prefecture, which is located nearly center of the main island of Japan. It stretches over the two separate areas: Mozu area in Sakai City and Furuichi area in Habikino and Fujiidera Cities. Over 200 kofun tombs were constructed in the Kofun period (mid-3rd to late 6th centuries AD), and 89 of them still survive in the middle of the cities.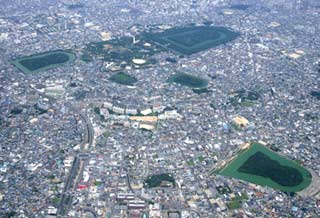 Mozu Kofungun
Mozu Kofungun spreads across an area of 2 km radius in Sakai City. During the Kofun period, more than 100 kofun were built in this area. Many were lost to subsequent urbanization after World War II, however, 44 still remain today, dating from the late 4th century to the early 6th century. The 44 include giant keyhole kofun, such as Nintoku-tenno-ryo Kofun, one of the largest burial mounds in the world, which makes Mozu Kofungun a valuable source of information on Japanese culture in the kofun-building era.
This website mainly focuses on this Mozu Kofungun.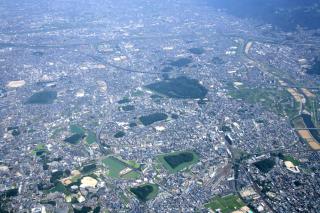 Furuichi Kofungun
Furuichi Kofungun, situated approximately 10 km apart from Mozu, is spread across an area of 2 km radius spanning Fujiidera City and Habikino City. The tomb group originally consisted of over 120 kofun of varying shapes and sizes. Remaining today are 45 kofun, of which seven are giant keyhole kofun measuring more than 200 m in mound length. The largest one is the keyhole-shaped Ojin-tenno-ryo Kofun, which has a mound exceeding 400 m long, and among the smallest are square kofun measuring less than 10 m on each side.