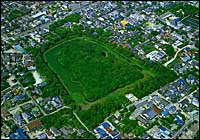 Location Kitamikunigaoka-cho 2, Sakai-ku
Facing south in Kitamikunigaoka-cho, Hanzei-tenno-ryo Kofun is a keyhole-shaped burial mound, located on the northern edge of the Mozu Tumulus Group. As the northern tumulus of the Three Mozumimihara Mausoleums, the mausoleum of the Emperor Hanzei, it is under the supervision of the Imperial Household Agency.
The mound is approximately 148 meters long, with the round part about 76 meters in diameter and 13 meters high and the square about 110 meters wide and 15 meters high. It comes to the seventh largest among the Mozu Tumulus Group. The mound is in three tiers. With its shape and haniwa unearthed from the mound, it is considered that its construction was around the latter half of the fifth century.
Although a single moat encircles the mound today, an excavation has found that there used to be a double moat.