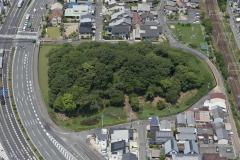 Location Higashinagayama-en,Sakai-ku
Turing the front square part south, Nagayama Kofun is a keyhole-shaped burial mound located about 50 meters northwest of Nintoku-tenno-ryo Kofun. The mound is approximately 100 meters long, with the round part about 63 meters in diameter and 10.3 meters high and the square part about 68.5 meters wide and 10.3 meters high. There is tuskuridashi connecting to the western constricted part. It is in two tiers, and the existence of fukiishi and haniwa has been confirmed. A shield-shaped moat encircles the mound.
The main burial facility of the mound has not yet excavated. Therefore, the structure of the burial facility and details of its grave goods remain unclear.
The mound is believed to be a satellite tomb and it is under the supervision of the Imperial Household Agency. However, considering its shape and size, it is rather doubtful. Today Osaka Chuo Kanjo-sen (the Osaka central belt highway) passes along the southern side of the moat, and it goes over the water partially.