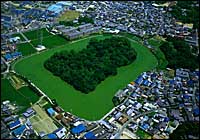 Location Mozu-honmachi 1, Kita-ku
Facing west, Gobyoyama Kofun is a keyhole-shaped burial mound, located in Mozu-honmachi.
After excavations conducted by the Imperial Household Agency and by the city in 2008, the mound was restored to the size of 203 meters in overall length, with the round part 113 meters in diameter and the square 136 meters as the widest. It is built in three tiers, and there is tsukuridashi connecting to the south side of the constricted part.
The existence of fukiishi and haniwa has been confirmed, yet, the structure of the main burial facility and its burial goods has not been revealed. A shield-shaped moat and a dike encircle the mound today. However, the recent research has found out that there used to be a double moat.
It is designated as one of the imperial mausoleum reference sites under the supervision of the Imperial Household Agency.