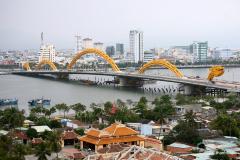 Da Nang City is one of the five largest cities in Viet Nam and directly responsible to the central government. Located on the central coast, it is well known as a popular tourist spot blessed with luxury beach resorts and nearby UNESCO World Heritage Sites, including the Hoi An Ancient Town, Complex of Hue Monuments and My Son Sanctuary.
Friendship city relationship formed: February 23, 2019
Population: About 1 million
Area: 1,285 square kilometers
Development of the relationship
With the historical backdrop of international exchange between Sakai and Vietnam dating back to the Middle Ages, Da Nang and Sakai concluded the "Memorandum of Understanding Concerning Promotion of Mutual Exchange" in 2009 when the Viet Nam Consulate General was relocated to Sakai. That year also marked the 120th anniversary of Sakai's municipalization and in celebration, the Sakai-ASEAN Week program was held for the first time. Since then, we have been interacting more actively in the fields of culture, education, and economy. For instance, students from Da Nang Foreign Language University have been participating in the annual Sakai-ASEAN Week to exchange with the local Japanese students and some private groups from Sakai take part in the Vietnam Japan Culture Exchange Festival in Da Nang every year for the past several years. Based on this accumulation of vibrant interactions, the friendship city affiliation was formalized in 2019 to further the sustainable development of the two cities through a wider range of mutual exchange programs.
Popular as a famous tourist destination, Da Nang is located in between Hanoi and Ho Chi Minh. The best attraction of Da Nang is a mixture of beautiful beaches with clear blue water and historical sites, such as Hoi An, Hue, as well as the My Son. The city is a metropolis of the central Viet Nam and provides convenient sea and air transportation and trade access. Hosting the APEC Summit Meeting in 2017, Da Nang is the fastest growing city in Vietnam.
Inviting 2 students for the Sakai-ASEAN Week program
Participating in "Viet Nam-Japan Culture Exchange Festival in Da Nang"
Employment collaboration and support for nursing care human resources
Sports exchange program for soccer and marathon