Pet bottles(Recyclables)【Collected Twice a Month】
Pet bottles for alcohol, soft drinks, condiments

Pet bottles for carbonated drinks, juice, tea, coffee, water, distilled spirits, mirin (sweet cooking sake), liqueur, sake, soy sauce etc.

Materials labeled with this mark
※Containers for sauces, cooking oil, dressing etc. should be classified as household garbage.
Put pet bottles into a colorless transparent bag or white translucent bag of 45 liters or less.Place the bag in the same location for cans and bottles by 8:00 a.m. on the designated date.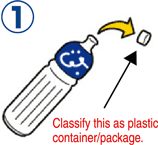 【1】 Remove cap.
(The plastic ring at the mouth of the pet bottle does not need to be removed. The cap should be classified as plastic container/package.)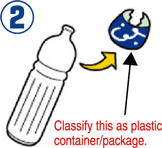 【2】Remove the label.
(The label should be classified as a plastic container/package.))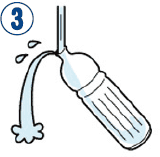 【3】Rinse inside.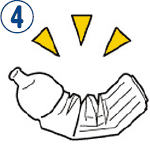 【4】Crush the pet bottle.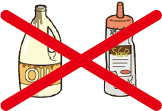 Containers for cooking oil, dressing, sauces etc.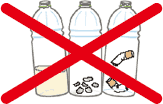 Containers that are soiled or have foreign matter
Containers with cigarette butts, leftovers etc. inside
Classified as household garbage
Caution! Common mistakes in garbage separation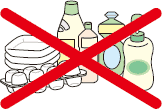 Plastic containers that are not pet bottles
Containers for detergent, shampoo, eggs etc.
Classified as plastic containers and packages